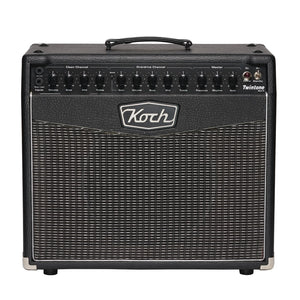 Koch Tone Series Twintone III Combo Amp w/ 12 Inch Speaker TTIII50-C112 Special Order
Koch Twintone III Combo Overview
The new Twintone mark III has been restyled and has also been partlyredesigned and improved. Naturally, the best features of the Twintone Iand II have stayed. As the enclosure is slightly bigger, the amp has adeeper and warmer low-end, but still gives you a that well defined andopen sound from its earlier versions. Its compact size and relativelight weight disguise the power, versatility, and ease of use thisamplifier has to offer.
Two EL34 Power Tubes supply 50 watts of power which can be used todrive the combo speaker on its own or in combination with any of theKoch extension speakers. The Twintone III has five speaker jacks forconnecting 4, 8, and 16 Ohm speaker-cabinets and/or the internal combospeaker. The superb sounding ˜Clean' channel has not been altered inthis new version, and will again give you the same wonderful warm andcrystal clear clean sounds you are used to . The Overdrive channel,however, has been re-voiced. The crunch and lead tones will give you amore complex and richer sound without losing its definition and depth.With these two channels you can go from a pristine clean sound, throughexciting ˜crunch' tones, up to saturated overdrive with infinitesustain.
The ˜Bright Clean' guitar input trims the mids somewhat forhumbucking pickups and makes sure the pure tone of the Twintone III isavailable for all types of guitar pickups. Also new are the two separatefootswitchable Master Volumes on the front panel: Rhythm and SoloVolume. The Presence control has been relocated from the Overdrivechannel to the power-amp section. This creates a more authentic sparklewhen turned open, and it now operates on both the Clean and Overdrivechannel.
The long tank spring reverb has a level control on the back panel forjust the right amount of effect. Naturally, the amp still has itsrecording output of which the filter has been improved. The output nowoffers true speaker-emulation for great authentic recording of yourfavorite guitar sound.
Features
50W All-tube amplifier
4 x 12AX7 pre-amp tubes
2 x EL34 power-tubes
Normal & Bright Clean inputs
Three foot-switchable channels: Clean, Crunch, and Lead
Seperate passive bass-mid-treble tone controls for both channels
Two Masters (Solo/Rhythm)
providing two controllable volume levels for all channels and settings
Presence on master section
Classic long scale model reverb with level adjust and foot-switchable
Parallel and/or Serial effects loops
Recording output (improved filter for true speaker-emulation)
4-way footswitch included