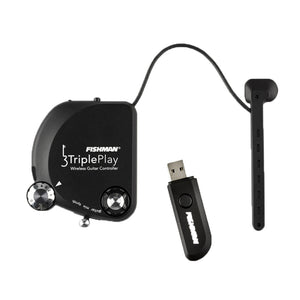 Fishman Tripleplay Wireless MIDI Guitar Controller, PRO-TRP-301
TriplePlay is the composing, performing and recording system that puts an unlimited palette of instruments and sounds at your fingertips '" all w/ the freedom of wireless control. Compose music w/ unparalleled tonal options. Easily share arrangements w/ your band. Switch between instruments, or play up to four instruments at the same time. Teach or learn faster w/ accurate notation. Create video soundtracks. Mix your own samples, beats, loops and tracks.
TriplePlay can be installed or removed quickly, on virtually any electric guitar, w/ no permanent installation necessary. Mounting hardward included.
The TriplePlay Wireless MIDI Guitar Controller comes complete w/ all the software you'll need for recording, editing and playing back your music. Take full advantage of powerful MIDI features w/ your guitar. w/ the easy and blazingly fast note encoding, preset editor and mixing console, you'll be mixing your own music in no time. Includes full versions of:
Native Instruments '" KOMPLETE Elements and GuitarRig LE
Notion Music '" PROGRESSION 2
IK Multimedia '" SampleTank 2 XT and AmpliTube Custom Shop
PreSonus '" Studio One Artist TriplePlay Edition