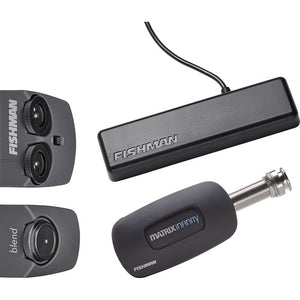 Fishman PRO-MAT-PT1 PowerTap Infinity - Body Sensor with Undersaddle Pickup Wide - !
The PowerTap Infinity pickup system, from the new Fishman AcousticPowerTap series, combines the superior performance and tone of ourMatrix Infinity undersaddle pickup system, with a totally new soundboardbody sensor. The result is a new world of percussive performanceelements and tactile dynamics for guitarists of all styles.
With the addition of Tap pickup technology, players can add newperformance dynamics of Touch, Ambience and Percussion. The easilyadjustable Blend control mixes the Rare Earth and Tap signals in mono,or run both signals into separate channels using a stereo cable. Thisfeature allows players to add separate effects, level control, and EQ toeach pickup independently " to create a striking soundscape of tonesfrom a single instrument.
A redesigned, sealed enclosure for the soundholemounted Volume andTone control module allows players to effortlessly make adjustments totheir sound. The preamp's voicing switch has been relocated and madeeasily accessible so players can accommodate different types of guitars,amplification choices, playing styles and performance situations.
Features
The new Fishman Tap body sensor pickup captures percussive elements and natural dynamics without the risk of feedback
The world's best-selling undersaddle pickup, the Acoustic Matrix
Endpin jack mounted preamp in a newly designed soft touch housing
Redesigned, sealed enclosure for soundhole mounted Volume & Tone controls
Unique scoop Tone control cuts mids while boosting treble and bass
Tap pickup Blend control module is discreetly mounted inside treble side of soundhole
Accessible voicing switch accommodates all guitar body sizes and performance situations
Stereo/mono output capability built in (option is easily and automatically determined by cable choice)
Integrated LED low battery indicator located on Blend control module
Mounting hardware and chrome strap button (gold available " sold separately)
Solderless connections for easy installation
Undersaddle Matrix pickup is available in wide, narrow, split saddle and other formats.
Custom lengths available (special order)
Professional installation strongly recommended
Powertap Infinity
PRO-MAT-PT1 " Wide Format
1/8 (3.2mm) width
Undersaddle Pickup : Standard pickup length of 2.65 (67.3 mm) will fit most guitars with 2.5 (63.5 mm) string spacings
Body Sensor Pickup : Pickup dimensions 2.54 (64.4 mm) width by .68 (17.3mm) height
Battery : 9-volt