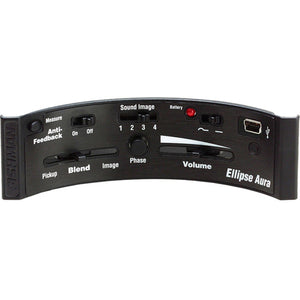 Fishman Ellipse Aura Undersaddle Pickup (Wide Format)
Prefix Pro Blend Onboard Preamp
Ideal for smaller body guitars!
This system packs features similar to the Prefix Plus series, on a smaller bezel that occupies 1/3 less space on the guitar  €"¢Ã¢'¬Å¡Ã¢'¬Å¡Ã'¡Ã¢'¬Å¡" an excellent fit on slim-bodied acoustic-electrics.
Aura Pro Onboard Preamp
With the success of Aura Imaging Technology, guitar manufacturers asked us to develop an Aura system that could be built into their top-tier acoustic-electric models. The Aura Pro is that product, and is now available to players everywhere.
Onboard Aura systems include Fishman  €"¢Ã¢'¬Å¡Ã¢'¬Å¡Ã'¡Ã¢'¬Å¡s Aura Image Gallery software, a PC/Mac compatible application that allows users to access Images for hundreds of guitar makes and models through our free Aura Image library. Once installed on your PC or Mac, the software also allows Aura Images to be sorted, managed, and grouped. Users can then take advantage of the preamp  €"¢Ã¢'¬Å¡Ã¢'¬Å¡Ã'¡Ã¢'¬Å¡s open architecture by loading Aura Images via a USB cable.
Prefix Plus-T Onboard Preamp
The Prefix Plus-T features ultra-quiet electronics and Volume, Bass, Treble and semi-parametric Contour controls.
The Prefix Plus-T also offers a Brilliance control, Phase switch and Notch filter to help fight feedback. In addition, the built-in chromatic tuner can be used without plugging in the guitar.
Features & Info:
State-of-the-art onboard preamp featuring Fishman  €"¢Ã¢'¬Å¡Ã¢'¬Å¡Ã'¡Ã¢'¬Å¡s Aura Acoustic Imaging Technology
Up to four Aura Images can be downloaded from Fishman  €"¢Ã¢'¬Å¡Ã¢'¬Å¡Ã'¡Ã¢'¬Å¡s Aura Image Gallery software (included)
Ergonomic soundhole-mounted design puts slider controls at your fingertips to maintain a natural playing position
Features the world  €"¢Ã¢'¬Å¡Ã¢'¬Å¡Ã'¡Ã¢'¬Å¡s best-selling undersaddle pickup, the Acoustic Matrix
Automatic anti-feedback
Pickup/Image Blend control
Volume control
Phase switch (feedback control)
Low battery indicator
Unique patent-pending neodymium magnetic mounting system for easy, solder-free installation
Solder-free connections
Switchable low-frequency tone-shaping built into preamp
Pickup available in wide, narrow or split formats
Professional installation recommended
1/8" (3.2mm) width
Standard pickup length of 2.65" (67.3 mm) will fit most guitars w/ 2.5" (63.5 mm) string spaces
Accommodates most round soundholes from 3-7/8" (98 mm) to 4-1/8" (105 mm) in diameter
9-volt