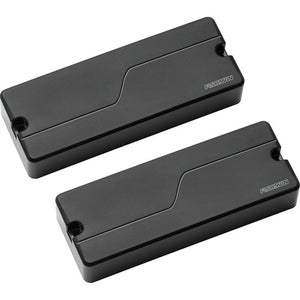 Fishman PRF-LS5-MI2 Fluence Legacy Series Mike Inez 5 String Bass Pickup Set, Black- !
Mike's main instrument, known as the Moon bass, was given to him byOzzy Osbourne and as he puts it, ¦it has magic pickups that I havebeen, unsuccessfully, trying to replicate forever ¦ Until now, withFluence, it's nailed. This bass has been on countless successful goldand multi-platinum albums with a long list of artists and producersconfirming its special sound.
With Fluence technology, we were able to reproduce that sound, andmore, to Mike's satisfaction ¦ enabling him to keep touring and recordingwith those classic tones, while using basses that aren't priceless rockand roll relics.
Like all Fishman Fluence pickups, the Mike Inez Legacy Series pickupis Multi-Voice and free from the hum, noise and frustrating inductanceissues that plague even the most coveted wire-wound pickups.
The Mike Inez Fluence Legacy Series pickup is available for 4 or5-string instruments, as a single pickup or in a set with a standardFluence Soapbar Bass pickup in the bridge position.
Voice 1: An exact sonic copy of Mike's Moon bass. From Alice to Ozzy " this is THE TONE
Voice 2: For all of Mike's warm, vintage tones.
Features
2-band EQ with separate treble/bass
Blend pot with easy in/out harness
Push-pull pot for volume/coil split
3-way mini toggle switch for easy voice selection
Peak Frequency :
Voice 1: 2.6kHz, 40Hz
Voice 2: 760Hz, 80Hz
Magnetic Material :
Magnetic Circuit :
Dual bar magnets, P-bass Configuration
Gauss Strength :
130 gauss strength at string
Output Impedance :
Current Draw :
3.5mA per pickup
1.1mA for the 2-Band EQ
Battery :
9-18V battery or optional rechargeable battery pack
Battery Life :
Two pickups plus 2-band EQ " Up to 60 hours
Single pickup plus 2-band EQ " Up to 110 hours