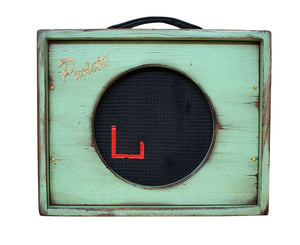 Paoletti Loft Series,Custom Brutale Amp 6 watt Combo Sage Green, New, Free Shipping
Description
Brutale 6w is a portable, hand-wired, all-tube amplifier.
It is powered by ECC83 & 6V6GT power tubes that deliver 6watts ofvoice which goes inside the solid chestnut cabinets. The same type andessence of wood we use on every Paoletti Guitar.
Designed to be the ideal grab-n-go amplifier, ready to be part of your collection.
Specifications
POWER 6 WATT 110V OR 220V
OUTPUT IMPEDANCE 4 Ohm
TUBES 1XECC83, 1X6V6GT, 1X5Y3GT
SPEAKER JENSEN 10R 25WATT 10" 8 Ohm
CIRCUIT PROCESS Point to Point soldering
CABINET MATERIAL SOLID CHESTNUT WOOD
ENCLOSURE TYPE CLOSED BACK WITH GRID
CHANNELS 1 HIGH GAIN , 1 LOW GAIN "Lead & Bass"
CONTROLS VOLUME - TONE - POWERSWITCH
DIMENSIONS 40 x 35 x 20 (cm)
DESIGN COMBINATION MATCHING EVERY PAOLETTI SERIES