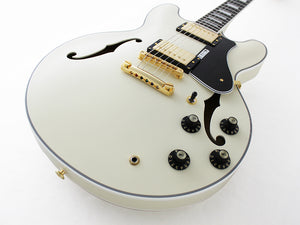 FGN MSA-HP-C Antique White, New, Free Shipping
Features Circle Fretting System (C.F.S.)
All FGN guitars and basses come with aunique Circle Fretting System (C.F.S.). It was created by FGN based onan idea to offer better pitch and articulation than conventional guitarsand basses. All frets are installed on fingerboard in slightly curvedshape, so that every string crosses all the frets in 90 degrees, i.e. tooffer a minimum contact of string on a fret, and it makes the scalelength of every string even while it actually varies on conventionalfretting. The C.F.S. is a solution of fretting on a traditional guitarand bass and it offers clearer articulation and tones which givedimension when you play a cord and also cut through the mix when youplay single notes.
Relatively small 15"body and uniquesemi hollow construction which is built with a scooped-out solidmahogany rim and inner block sandwitched with Curley Maple top and backoffers unique balance of airy acoustic and solid electric sound.
Mahogany neck with Smooth heel joint.
Mahogany neck with Ebony fingerboard with Expert super smooth fret treatment.
GOTOH GE104B Traditional style bridge with brass saddles
Specification 㱴搾䝏呏䢮⁓䐹〭卌㰯瑤㸊ConstructionSet-in NeckBodyMaple Top & Back / Mahogany SidesNeckMahogany U-ShapeFingerboardEbonyScale24.75" (628mm)Frets22F Medium Jumbo C.F.S.TunersBridgeGOTOH® GE104BTailpieceGOTOH® GE101AHardware ColorGoldPickup (Neck)FGN Alnico 3Pickup (Middle)-Pickup (Bridge)FGN Alnico 3Controls2Volume, 2Tone, 3Way Toggle SWBody FinishTop Lacquer Low GlossStringsD'Addario EXL110 (.010-.046)Others-AccessoriesOriginal Hard Case, Fret GuardColorAWHQ (Antique White)