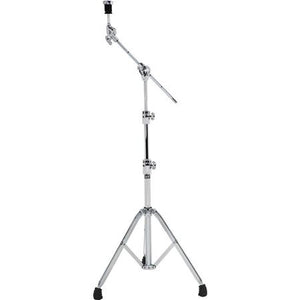 ddrum Mercury 3 Tier Boom Stand
This three-tiered boom stand is loaded with usablefeatures. The disappearing boom arm allows the stand to be used as astraight or a boom stand, allowing for the drummer to spread out formaximum comfort or pull in tightly for smaller stages - all the while,allowing for perfect cymbal placement with the micro-geared tilter. Alltiers, including the boom arm, include memory locks to assure consistentplacement - night after night, session after session.

Thememory lock on the bottom tier allows for consistently perfect legpositioning and the double-D wing nuts are substantial without beingoverbearing - allowing for great grip when adjusting height or position.The Mercury-exclusive molded feet allow not only for slip-freeplacement, but preserve the resonance of cymbals - or any toms suspendedoff of the stand.
Ddrum Stand Features
Convertible boom to straight stand
Double Braced hardware
3 tier boom stand
Tube diameters15 mm, 22mm and 27mm
Signature branded Ddrum wing nuts
Molded memory locks
Boom length approximately 16"
Maximum height approximately 65"
Lowest height approximately 35"
Compatibility
Designed for use with: Cymbals
What's in the box:
Ddrum Mercury 3 Tier Boom Stand
Ddrum 2 Year Warranty