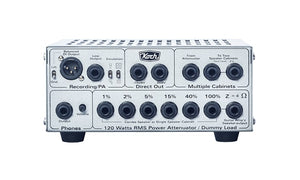 Koch 16 Ohm 120W Loadbox Attenuator / Speaker Simulator & DI Box LB120II-16 Special Order
The Koch Loadbox II power attenuator,DI & speaker simulator is an innovative ˜multi-tool' which should befound in every serious guitar players' kit. The Loadbox offerssolutions for many situations : from live gigs, to rehearsals, to homeand studio recording.
We understand that quality, tone andclarity are very important to guitar players. Therefore we designed theLoadbox II with extra heavy duty components, stainless steel housing anda host of features. We believe that we have met those criteria. Wedecided to use jacks rather than a potmeter to select the attenuationlevel to ensure maximum reliability, and to ensure the best clarity andquality of the attenuated signal.
As a straight output power attenuator,the Loadbox can handle a continuous 120 Watts at any of 7 output levelswith unparalleled clarity, and without loss of tone. The user also hasthe choice of various outputs to channel the attenuated signal such as :single or multiple cabinets (depending on impedance), padded ornon-padded direct outputs, a transformer balanced XLR DI output and lineoutput for PA/Recording. The DI and line outputs both share voicingswitches for microphone placement and cabinet style, allowing the userto use the Loadbox as a speaker simulator in any situation from studiorecording to live performances.
The Loadbox can also be used as astraight transformer balanced DI box with speaker simulator, or toconvert almost any amp into a headphone amp for rehearsing andpracticing. Whether recording, performing or rehearsing, let your amprun at its fattest, juiciest, and loudest level, to get that beautifulsound of output tube saturation, and use the Loadbox to tame the outputto a user friendly volume level. The LB120 Loadbox II is available in 16Ohm version.
Features
120 Watt continuous Power Attenuator, DI, dummy load & speaker simulator
Available in 16 Ohm version
7 power output levels : " 100%, 40%, 15%, 5%, 2%, 1%, 0%
Two unfiltered direct outputs (-10dBv, 0dBv)
Transformer balanced DI output for PA or recording
Output for extension cabinets
Headphone output with volume control
Selectable speaker-simulation filters for cabinet style and mic position
LIFT/GND switch, and fan for extra cooling if required
Heavy duty stainless steel housing
Maximum load at line output : " 20K Ohms
Maximum load at DI output : " 600 Ohms
Dimensions : 20 w x 8.5 h x 16 d (cm)