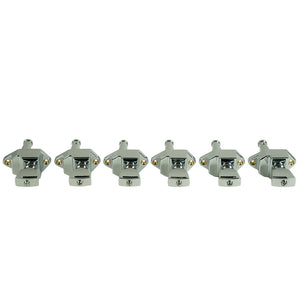 Kluson Vintage Diecast Series Firebird Tuning Machines - 6 In Line Machine Chrome
Kluson's reissued Firebird/Banjo tuning machines for GibsonFirebird! Staying true to the design in virtually every aspect usingplanetary gears with a 12:1 ratio (wind rate = to 14.6:1 ratio), theexact mounting screw pattern, housing size and appearance with the 5/16inch string post. Because these tuning machines have a larger stringpost they do require the original larger peg hole which is very similarin size to what is used for modern diecast tuning machines.
The engraving on the bottom plates depict treble or bass side and are only visible when tuning machine is not installed.