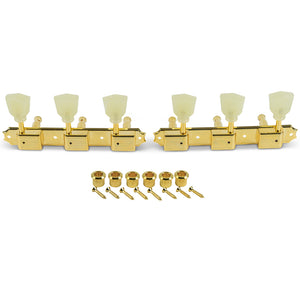 Kluson 3 On A Plate Supreme Series Tuning Machines Gold With Plastic Keystone Button
The Kluson Supreme series tuning machines have an 18:1 gear ratio inthe traditional stamped steel housing. This particular set is designedfor instruments using a plate mounted 3 + 3 tuning machine set with anupgraded gear ratio to original machines.
The housing bears theseries name "SUPREME" in place of the original "DELUXE" moniker but thisis the only hint to what lies hidden under the dust cover. Using allvintage specs these tuning machines will drop right into your instrumentusing vintage 3 per plate tuning machines with no modifications. Thesmooth and reliable performance of the Supreme Series outshines the restin its class. This is a complete set and comes with left and right sidemachines with hardware needed for installation.
Uses Kluson Bushings MB65N US (Nickel) or MB65G US (Gold)
Gear Ratio = 18:1
Center to center distance of all 3 posts= 2 3/4 in.
Center to center distance between posts - 1 3/8 in.
Length of baseplate- 4 1/4 in., post height= 1 in.
This is a complete set and comes with both left and ride side tuning machines.
Also comes complete with bushings and mounting screws.