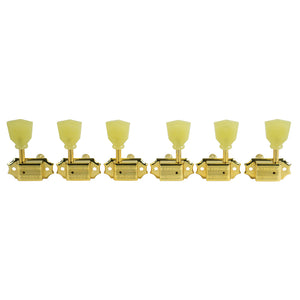 Kluson 3 Per Side Supreme Series Tuning Machines Gold
The Kluson Supreme series tuning machines have an 18:1 gear ratio inthe traditional stamped steel housing. This particular set is designedfor instruments using a 3 + 3 tuning machine set with an upgraded gearratio to original machines.
The housing bears the series name"SUPREME" in place of the original "DELUXE" moniker but this is the onlyhint to what lies hidden under the dust cover. Using all vintage specsthese tuning machines will drop right into your instrument using vintage3 per side tuning machines with no modifications. The smooth andreliable performance of the Supreme Series outshines the rest in itsclass. This is a complete set and comes with left and right sidemachines with hardware needed for installation.
Uses Kluson Bushings MB65N US (Nickel) or MB65G US (Gold)
Outside diameter = 8.85mm
Inside diameter = 1/4 inch or 6.48mm