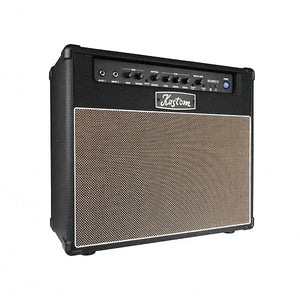 Kustom KGA100FX112 1 x 12" 100 Watt Guitar Combo Amplifier
The Kustom KGA100FX112 is a classic, 100-watt guitar combo amp. It provides two channels (Rhythm and Lead), digital effects and a single 12-inch Kustom speaker.


Features :
100 Watt RMS Wattage
1 x 12-inch Kustom Speaker
Lead, Rhythm Channels
Bass, Middle, Treble Tone Controls
Reverb, Delay, Chorus Effects
Lead Channel Gain Control
Solo Boost (w/ Optional Footswitch)
Effects Loop
External Speaker Jack
Headphone Jack
Auxiliary Input
Footswitch: Optional (Channels/Boost) Footswitch
Dimensions: 18.9 H x 20.9 W x 10.9 D
Dimensions (mm): 481 H x 531 W x 277 D
Weight: 35.3 lbs / 16 Kg
Power Amp Circuit: Organic Clipping
The KGA100FX112 Rhythm channel offers clear, dynamic tones that are perfect for a wide variety of musical styles. Using the Gain control, the Lead channel can dish out anything from chunky Classic Rock sounds to the heaviest, scooped Metal tones out there. Separate Bass, Middle and Treble controls let players fine-tune the tonal response as required. The KGA100FX112 provides built-in Reverb, Delay and Chorus effects that may be activated on the amp's front panel. Reverb can provide anything from subtle room ambiance to an all-out wash of cavernous sound. Delay is perfect for fattening up lead tones, especially when combined w/ distortion. Chorus adds a shimmering, liquid-like quality to the sound, especially w/ arpeggiated chords. Like all KGA amps, the KGA100FX112 offers an auxiliary input for plugging in an MP3 or CD player to practice along w/ tunes and a 1/8-inch headphone input. Using headphones, you can silently jam along w/ recordings, have all of your tone and effects, and not disturb anyone in the process! An Effects Loop w/ Send and Return jacks provides flexibility for integrating external effects and processors. A Speaker jack allows the use of external cabinets. When the KGA100FX112 is used w/ a dual-function footswitch, channel-switching and a "hidden" volume boost feature may be activated. The boost is perfect for making solos stand out in a band mix. (Note: The Kustom KACFS201 footswitch may be used for this application.) All KGA Series amplifiers provide a five-year, transferable electronics warranty to give buyers extra piece of mind w/ their purchase.