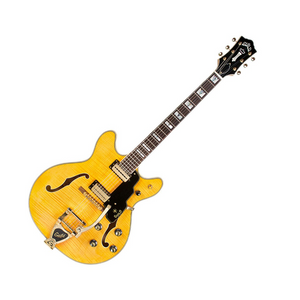 Kluson KCDL-6T-N 6 In Line Left Hand Locking Contemporary Diecast Series Tuning Machines, Nickel
The Kluson Contemporary Series 19:1 ratio locking tuning machine uses the more desirable rear knob locking system and is designed for usage on contemporary guitars. This design requires an individual mounting hole location offset at approximately 7 O'clock or 4 O'clock depending on left or right handed application (bass or treble side).
Uses the common modern 25/64 in. (10mm) peghole with a hex head type screw-in bushing and single mounting screw. This is a 6 in line set of tuning machines for left handed instruments (or reverse headstocks) with all mounting hardware included.
String Post Overall Height= 1 3/64 in.
String Thru Hole Ctr Height= 7/8 in. (22.3mm)
String Post Diameter= 6mm
Locking Feature= Knob on back of housing
Gear Ratio= 19:1
Peg Hole Requirement= 25/64 in. (10mm)
Bushing Type= Screw-in Hex Head