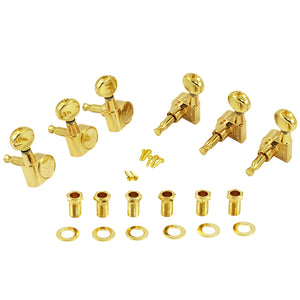 Kluson 6 In Line Contemporary Diecast Series Tuners Gold
Kluson 19:1 ratio Contemporary Diecast Series tuning machines.These state of the art diecast tuning machines are designed for usage oncontemporary guitars and utilize the same mounting hole common toGrover 305 series medium tuning machines as well as the common Gotohtuning machines with the mounting screw located offset at approximately 7O'clock or 5 O'clock depending on left or right handed application.
This6 in line set uses the common modern 25/64 in. (10mm) peghole with ahex head type screw-in bushing and single mounting screw. All mountinghardware is included.
Gear Ratio= 19:1
Peg Hole requirement= 25/64 in. (10mm)
Mounting requires a single screw
String Post Overall Height= 1 1/16 in.
String Post Diameter= 6mm
String Thru Hole Ctr Height= 29/32 in.
Bushing Type = Screw-in Hex Head