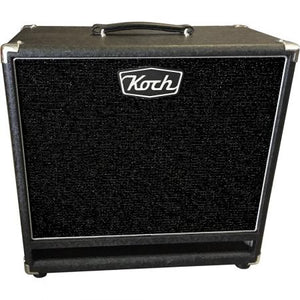 Koch 1x12 60W 8 Ohm Speaker Cabinet in Black/Black Cloth / Ported KCC112-BB60 Special Order
KOCH KCC112 60 cabinet overview.
TheKoch KCC112 cabinet packs an impressive low-end punch for its size,thanks to a front-ported, closed-back design and a great-sounding 12"VG12 60 speaker that's capable of handling up to 60 watts of power. 
Itwas developed as an extension speaker cabinet for guitar amps such asthe Jupiter, Studiotone and Twintone III combos and heads.
but youcan plug any head or amp into the 1 x 12" cab, and you'll be amazed atthe huge tones you get. This cab is constructed of high-quality 11-layerBirch Plywood constructed with wood-to-wood joints, which enhances itstonality while providing the rock-solid reliability you need on the roador in the studio. Covered in classy (and tough) black vinyl, the KCC112 closed-back cabinet complements just about any rig.
Wood
Afterexhausting research, tests showed that the materials used for the shelland baffle are a very important factor in the overall sound quality of acabinet. For that reason, the shells of our cabinets are made of thebest quality 11-layer Birch Plywood constructed with wood-to-woodjoints, while the baffles are made of vibration-free MDF. Thiscombination produces a tight low end with colorful mids and smoothhighs, exactly right for guitar sound reproduction.
Hardware
Ourcabinets are equipped with the best available hardware: thick, qualityvinyl; nickel plated corners, amp strips and screws, leather barhandles, removable castors and rubber stack feet.
KOCH KCC112 60 Specifications.
Ported 1x12" Cabinet
12" VG12 60 speaker
60 Watt
Impedance 8 Ohm
?11-layer Birch plywood
Slot joints construction, glued under pressure
Dimensions 54,5(w) x 30,5(h) x 51,5(d) cm
Weight 19.3 kg