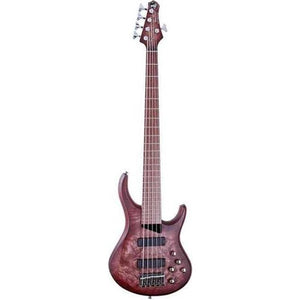 MTD Kingston Andrew Gouche signature 5 string, AG burst
Michael Tobias and legendary bassist AndrewGouche worked together to create the MTD Kingston AG, an amazing basswith many custom features that were personally selected by Andrewhimself. This bass is fully loaded with a 35" scale, alder body withmaple burl top and one-piece neck, MTD quick release bridge andBartolini pickups and active Bartolini 3-band preamp. With its smoothplayability and mind altering tones this bass will change the way youthink about the instrument. Available in a custom finish created toperfectly blend with the fingerboard.

In Michael Tobias's own words, "This is a sweet sounding bass."
Features
35" scale
24 medium jumbo frets
One-piece neck with satin polyester finish
Alder body with Maple Burl top
MTD quick release bridge, 3/4" (19mm) spacing
Double-action truss rod
Purpleheart fingerboard
Five controls:volume (with push/pull preamp bypass), blend, treble
control, mid control (with push/pull mid shift: 250Hz - 800Hz.) and bass control
Bartolini pickups and active Bartolini 3-band preamp
Shielded electronics compartment
Buzz Feiten Tuning System
Smoked chrome hardware