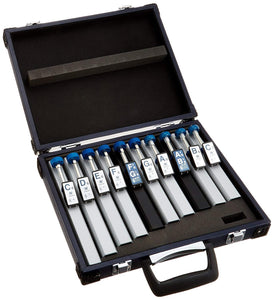 Suzuki HB-100 10 note tonechime set w/case
Suzuki Tonechime 10 notes with a bag - HB-100
Handchimes are an excellent and rewarding group instrument and the Suzuki Tonechimes are brilliantly made with an expressive and clear tone quality.

Each chime is carefully crafted from a lightweight alumiunium alloy which not only ensures that the sound is expressive and resonant but that they are easy to play and hold.

Sometimes referred to as hand bells these chimes have a rounded tone chamber and a fully adjustable striking mechanism which enables you to vary the sound and volume.

Great for use in the classroom, each individual chime is labeled with the note name along with its enharmonic equivalent in the case of accidentals. There is also a small diagram picturing the notes exact position of the musical stave.