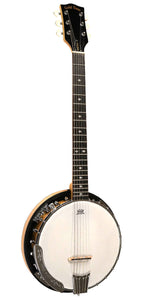 Gold Tone GT-500 6-string Banjitar
.
GT-500: Banjo Guitar
Folkternative Design

Maple Construction

SMP pickup w/ Volume

Snowflake Inlay

The Gold Tone GT-500 6-string Banjitar is the most sought after 6-string banjo guitar in its class. it was designed by guitar players for guitar players. Traditionally-styled w/ a maple rim (with a full-weight brass flathead tone ring) and maple resonator, the GT-500's pot assembly joins w/ a comfortable maple neck crowned w/ a rosewood fingerboard. Killer acoustic tone abounds and the unique Gold Tone SMP Sliding Magnetic Pickup provides powerful plugged-in full range fidelity from the low E string to the first string's final fret. Available as left-handed model.
Specifications
Neck: Hard Rock Maple

Finish: Natural Gloss

Fingerboard: Radiused Rosewood

Bridge: Maple w/ Ebony Cap

Tuners: Sealed Guitar-Style

Inlay: Snowflake

Truss Rod: Two-Way Adjustable

Tone Ring: Steel Alloy

Rim: Multi-Ply Maple

Tension Hoop: Notched Brass

Binding: Black ABS

Buttons: B-Style

Hardware: Chrome Plated

Pickups: SMP w/ Volume Control

Tailpiece: 6-String Straightline

Resonator: 13" Maple

Armrest: Gold Tone Engraved

Head: 11" HC Frosted

Number of Frets: 21

Nut Width: 1-11/16"Bone

Scale Length: 25-1/2"

Weight: 11 lbs.

Tuning: EADGBE

Strings: .052w, .042w, .032w, .020w, .016, .010

Hard Case: HD15 (sold separately, inquire when ordering)

Bag: HPB (sold separately, inquire when ordering)

Left-Handed Available: Yes