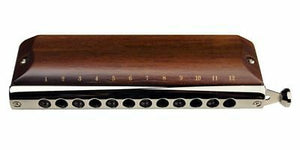 Suzuki Gregoire Wood 12 Hole C D4 G-48W-C
Achieving the mysterious "Beautiful Dark Sound." When Suzuki embarked on making signature models for their star chromatic harmonica player Grgoire Maret, Grgoire stated that above all "I want a Beautiful Dark Sound." This was the seed that triggered the development of the G-48 Gregoire Maret Signature Chromatic Harmonica.
Grgoire was constantly seeking this mysterious "Beautiful Dark Sound" throughout the development of his signature models. He proposed many ideas, including the materials to be used, the colors, the tolerance of the reeds and other intricate aspects of these magical instruments.
After exhaustive research, the G-48 fulfills the spirit of his ideas to the last detail.
The G-48 has a powerful and intense sound that's combined with a unique dark blue coverplate. The special plating is not just beautiful but has high durability characteristics. This plating material is renowned for its durability. Features
Rosewood covers
12-hole
48 notes
C-D4
Sliding Chromatic