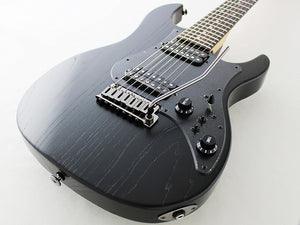 FGN EOS7-ASH-DER OPB, New, Free Shipping
Features Circle Fretting System (C.F.S.)
All FGN guitars and basses come with aunique Circle Fretting System (C.F.S.). It was created by FGN based onan idea to offer better pitch and articulation than conventional guitarsand basses. All frets are installed on fingerboard in slightly curvedshape, so that every string crosses all the frets in 90 degrees, i.e. tooffer a minimum contact of string on a fret, and it makes the scalelength of every string even while it actually varies on conventionalfretting. The C.F.S. is a solution of fretting on a traditional guitarand bass and it offers clearer articulation and tones which givedimension when you play a cord and also cut through the mix when youplay single notes.
Maple quarter-sawn 1-pc 7-string neck with Luminous dots.
Rosewood fingerboard with Expert fret edge treatment to offer smooth effortless fingering.
Moonsault heel cutaway joint to offer stress-free high fret access.
GOTOH NS510TS-FE7 7-string bridge.
GOTOH Magnum Lock tuners on matching color OS 7-string headstock.
Seymour Duncan Jazz SH-2n 7 & Distortion SH-6b 7 humbucking pickups.
"Double Tricky" direct bridge humbucker and coil tap switches.
Specification ConstructionBolt-on NeckBody2pc AshNeckMaple Quarter Sawn U-ShapeFingerboardRosewoodScale25.5" (648mm)Frets22F Jumbo C.F.S.TunersGOTOH® SG381-07 MG-TBridgeGOTOH® NS510TS-FE7Tailpiece-Hardware ColorCosmo BlackPickup (Neck)Seymour Duncan® Jazz Neck SH-2n 7Pickup (Middle)-Pickup (Bridge)Seymour Duncan® Distortion SH-6b 7sControls1Volume, 1Tone, 3Way Lever SW, 2 Mini Tricky SWBody FinishOpen Pore MatteStringsD'Addario EXL110-7 (.010-.059)Others-AccessoriesOriginal Hard Case, Fret GuardColorOPB (Open Pore Black)