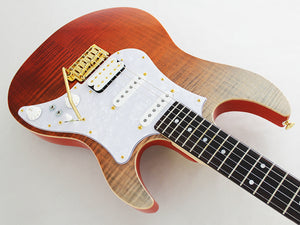 FGN EOS-FM-R, New, Free Shipping
Features Circle Fretting System (C.F.S.)
All FGN guitars and basses come with aunique Circle Fretting System (C.F.S.). It was created by FGN based onan idea to offer better pitch and articulation than conventional guitarsand basses. All frets are installed on fingerboard in slightly curvedshape, so that every string crosses all the frets in 90 degrees, i.e. tooffer a minimum contact of string on a fret, and it makes the scalelength of every string even while it actually varies on conventionalfretting. The C.F.S. is a solution of fretting on a traditional guitarand bass and it offers clearer articulation and tones which givedimension when you play a cord and also cut through the mix when youplay single notes.
Compound radius fingerboard
The compound radius fingerboard hassmaller (rounder) radius towards nut while larger (flatter) radiustowards neck end i.e. similar to a shape of a cone.This allows for mucheasier chord playing at lower frets while having less stress, especiallywhen bending strings at higher registers.
Maple quarter-sawn 1-pc neck.
Expert fret edge treatment to offer smooth effortless fingering.
Luminous side dots.
Moonsault heel cutaway joint to offer stress-free high fret access.
GOTO 510TS-FE1 bridge and vintage style Magnum Lock tuners.
"Double Tricky" direct bridge humbucker and coil tap switches.
Specification 㱴搾䝏呏䢮⁓䐹ㄭ〵䴠䵇㰯瑤㸊ConstructionBolt-on NeckBodyFlamed Maple Top / Ash BackNeckMaple Quarter Sawn U-ShapeFingerboardRosewoodScale25.5" (648mm)Frets22F Medium C.F.S.TunersBridgeGOTOH® 510TS-FE1Tailpiece-Hardware ColorGoldPickup (Neck)FGN OS-1nPickup (Middle)FGN OS-1cPickup (Bridge)FGN OS-1bControls1Volume, 1Tone, 5Way Lever SW, 2 Mini Tricky SWBody FinishGlossStringsD'Addario EXL110 (.010-.046)Others-AccessoriesOriginal Hard Case, Fret GuardColorRKG (Ripe Kaki Gradation)