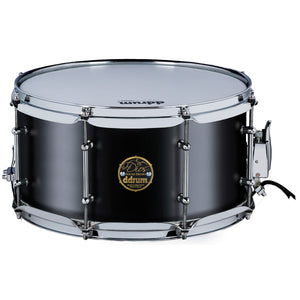 ddrum Dios Maple 7x13 Snare Satin Black
The Dios Maple snare is crafted from 100%North American maple for a warm cutting tone. Its 7x13" or 6.5x14" 8-plymaple shells are versatile enough for any musical setting, whether youneed to project through a massive rock band or lay back in a quieter popsetting. It features a lever throw off, Evans drum heads, 8double-sided tube lugs and 2.3 mm triple-flanged hoops.
Product Details

7x13 Maple shell
Lever Throw off
Evans drumheads included
8 double sided tube lugs
2.3mm triple flanged hoops
Wood Configuration North American Maple Lug Type Double sided bullet tube lug Hoop Spec 2.3mm triple flanged Plys Snare Drum 8 Bearing Edge Spec 30 degree outer/ 45 degree inner.