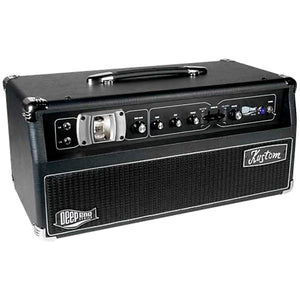 Kustom DE300HD 300W Tube Hybrid Bass Amp Head
DE300HDHybrid Tube Bass Head pushes 300 Watts to a 4 OHM loaded cabinet (ortwo 8 OHM cabinets in parallel) for bass tone that is uncompromized.

DeepEnd DE300HD amplifiers utilize an exclusive preamp design that combinesa 12AX7 tube, known for its robust tonal qualities, with solid statecircuitry that provides consistent performance and reliability. Theresult is a rich dynamic tone that is perfect for a wide variety ofplaying styles and environments.

Once you experience all thatDeep End has to offer, you'll know the Kustom engineer was also a bassplayer. The front panel controls allow you to dial in your own personalsound. Tube Gain, Bass, Mid and Treble knobs plus dual ROOM EQ sliders(LOW Contour & HIGH Contour) and MASTER Volume give you extremeversatility. Features you'll find on the back panel: Speaker EmulatorXLR balanced line out and 1/4" tuner out are the DE300HD little extrasthat will make this your go-to amplifier.

Plug in to a Deep End DE410H or DEEP115 & DEEP210 speaker cabinet to complete the rig.

Specifications
Power: 300W (4 Ohms); 180W (8 Ohms)
Tube: one 12AX7 (preamp)
Single channel
Two inputs: Passive (0 dB); active (-6 dB)
Controls: 3-band EQ, low contour, high contour
Gain control tube Gain
Effects loop
Direct Out Balanced XLR (Output selected by Pre/Post EQ Switch)
Line In 1/4" Power Amp In
Line Output 1/4" Preamp & 1/4" Tuner Out
External speaker jack 2-1/4" 
Impedance: 4 Ohm minimum (Combined)
Dimensions: 11.75" x 23" x 11.75" (298 x 584 x 298 mm) 
Weight: 36 lb. (16.3 kg)