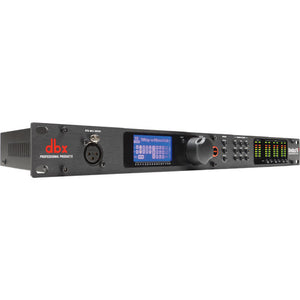 dbx DriveRack PA2 Complete Loudspeaker Management System
Key Features
Loudspeaker Management
Mac, PC, iOS & Android Mobile Control
Crossover for 2- or 3-Way Systems
AutoEQ Automatic Room EQ Function
The dbx DriveRack PA2 Complete Loudspeaker Management Systemis a loudspeaker management system that can be controlled via your Mac,PC, or mobile iOS or Android device. Using an optional microphoneconnected to its RTA input, its AutoEQ function can be employed tolisten to your room and automatically EQ it for optimized speakerperformance. The AFS (Advanced Feedback Suppression) feature is designedto eliminate feedback while preserving the sound of your system.

In addition to automated functions, the DriveRack has integrated dbxcompression and limiting as well as both a graphic and 8-band parametricEQ section. It also features driver-alignment delays and a crossoversection that supports full-range, 2-way, and 3-way systems. You cancontrol the DriveRack PA2 directly by connecting from your Mac or PC viathe rear-panel USB port, or connect the PA2 to a wireless router viaits Ethernet port for compatibility with iOS or Android devices.
AutoEQ The AutoEQ algorithm is designed to ensure an accurate, fast, and non-intrusive automatic EQ experience.
With an optional mic connected to the RTA Mic input "listening" to yourroom, the DriveRack PA2 AutoEQ algorithm sets speaker levels and room EQautomatically in a matter of seconds. This means room adjustments cannow be made quickly, without subjecting the audience to annoying,lengthy broadcasts of pink noise AFS Feedback Elimination TheAdvanced Feedback Suppression (AFS) algorithm allows for faster, moreprecise feedback elimination, without adversely affecting your system'stone.
The DriveRack PA2 listens for and anticipates feedback and adjustsspeaker output automatically before feedback can start, while neveraltering your sound Wizard Setup Functions Wizards make initial set up easy, while ensuring speaker tunings and other settings are up-to-date.
Wizard functions on the DriveRack PA2 to guide you through step-by-stepprocesses to help you get the most from your loudspeaker system. Ithelps you configure level balancing, AutoEQ, Advanced FeedbackSuppression, and provides access to built-in and constantly updatingspeaker tunings from most major speaker manufacturers Input Processing
dbx Compression
AFS (Advanced Feedback Suppression)
Graphic EQ
8-Band Parametric EQ (adjusted when using the AutoEQ)
Subharmonic Synthesis
Output Processing
Crossover (supports full range, 2-way, and 3-way systems)
8-Band Parametric EQs (used for speaker tunings)
dbx Limiting
Driver Alignment Delays
UPC: 691991401480 In the Box
dbx DriveRack PA2 Complete Loudspeaker Management System
Limited 2-Year Warranty