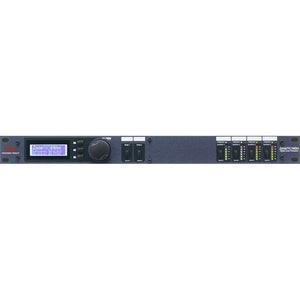 DBX Zonepro 640M 6X4 Digital Zone Processor
The dbx ZonePRO 640mis a digital zone processor with a fixed I/O, preconfiguredarchitecture, configurable insert processing, and optional duplicationof audio to an additional ZonePRO device via a link bus.

The unit features six inputs with four balanced mic/line switchableterminal block inputs and two unbalanced, mono-summed RCA input pairs.There is hardware-controlled microphone gain per channel. Thepre-configured architecture has input processing with a central matrixand output processing. Two input insert positions and one output insertposition allow channel-specific insert processing to be configured.AutoWarmth, a psychoacoustic function that maintains full frequencybandwidth even when the signal level has dropped, is permanentlyavailable on each output zone.

The front panel features comprehensive signal metering, a well-spec'dLCD display and user-specified front panel control. Additional systemcontrol is offered in the form of optional zone wall-controllers, whichprovide simple interfaces for functions such as volume, source, andpreset control. All ZonePRO devices can be controlled by third partycontrol systems via RS-232 or Ethernet as applicable. The ConfigurationWizard within ZonePRO Designer guides users through the step-by-stepconfiguration process of the 640m. The dbx ZonePRO 640m ships with apower cord, a set of rack screws, and an RS-232 modem cable.
Six inputs and 4 outputs
Four balanced mic/line inputs
Two unbalanced, mono-summed RCA input pairs
Microphone gain per channel
Preconfigured architecture
Two configurable input insert positions
One configurable output insert position
AutoWarmth per output zone
Link bus
comprehensive signal metering
Front panel LCD
User-specified front panel control
Optional ZC controllers
Ethernet control
Serial control
Third party control
Wizard-driven configuration
UPC: 691991401169 In the Box
dbx ZonePRO 640m 6x4 Digital Zone Processor
Power Cord
RS-232 Null Modem Cable
Rack Mount Screw Kit
Limited 2-year Warranty