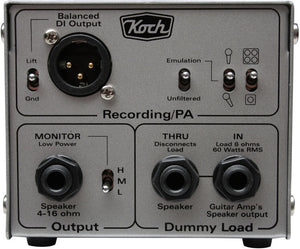 Koch 60W Dummybox PA Attenuator / Speaker Simulator & DI Box DB60-S Special Order
Capture your favorite guitar sound inevery situation with the Koch Dummybox Studio/PA. The Koch DummyboxStudio/PA is an innovative ˜multi-tool' which should be found in everyguitar player's toolbox. With the Dummybox Studio/PA you can capture thesound coming from your guitar amp's speaker output, and feed it into arecording system or PA; even when playing at low volume or without aspeaker connected! Hence, the Koch Dummybox Studio/PA provides asolution for virtually every live and/or recording situation.
The Dummybox is placed between yourfavorite amp and speaker. Therefore, it can capture every coloration toyour guitar sound created by both the pre-amp and power amp section ofyour amplifier. If you connect your speaker to the monitor output, youcan play your amp at full power while maintaining a much lower volumelevel coming from your speaker cabinet. The three position switch allowsyou to selects whether 5% (H), 3% (M) or 1% (L) of output power is sentto your speaker cabinet.
The Koch Dummybox Studio/PA can handleup to 60 watts of amplifier power continously, while peaks up to 100watts will not cause any problems.
Recording your favorite guitar soundcan be done with or without a speaker connected. The Dummybox Studio/PAhas a fully balanced XLR DI output. You can choose to send a filtered oran unfiltered signal to the mixing console or PA. When the filteredsignal is chosen, voicing switches provide you with variousspeaker-simulation options, such as the choice of microphone placement(on or off-axis), and type of speaker cabinet-emulation (1×12 or 4×12).This allows you to vary the directness and low end of the sound.
?Authentic tone and reliability are themost important things for guitar players. Therefore we designed theDummybox Studio/PA using the highest quality components and protected itwith a rugged heavy duty steel housing.
Whether you are recording, performinglive, or rehearsing the Koch Dummybox Studio/PA lets you run your amp atits loudest, fattest, and juiciest volume level, while allowing you tocontrol the output volume & record killer guitar tracks directly.
Features
Input : dummyload with 60 Watts contiunous /100 watts peak power handling
Thru output : speaker output with no volume loss
Monitor output : low power speaker output with three selectable levels:
5% (H), 3% (M), 1% (L)
XLR output : professional transformer balanced 600 Ohms output,
with ground lift switch
Switch for selecting filtered or unfiltered output signal
Voicing switch for selecting the type of speaker cabinet : 1 x 12 or 4 x 12
Voicing switch for selecting microphone placement : axis or off-axis
Heavy duty steel housing
Maximum load at line output : " 20K Ohms
Dimensions  : 11 w x 18 h x 13 d (cm)