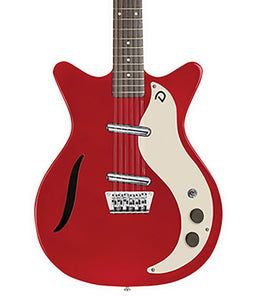 Danelectro'59 Vintage 12 String Red Metallic, D59V12-MR
Wire Meets Wood Guitars is an Authorized Danelectro Dealer to the United States of America.

Danelectro"¢Ã¢'¬Å¾Ã'¢s best sounding 12 string ever! 3 Hot Vintage colors, " ¦Ã¢'¬Å"S Sound Hole, and " ¹Ã… 56 Vintage pickups make this a " ¦Ã¢'¬Å"must have guitar for any player!
Shorthorn shape
Scale length:5" šÃ'³
Number of frets:1
Fully adjustable 12 string bridge
2 lipstick pickups
1 master volume
1 master tone
3 way pickup selector
" ¦Ã¢'¬Å"S sound hole