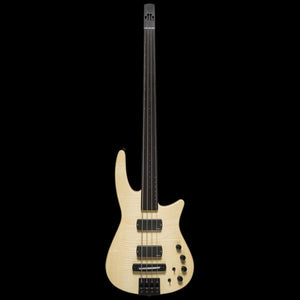 NS Design CR4 Radius Bass Guitar - Natural Satin - Fretless
Meticulously crafted in the Czech Republic, the RADIUS Bass Guitar embodies a breadth of experience, insight, and design brilliance which only Ned Steinberger can bring to the creation of a new classic. His approach to the RADIUS, as with every new instrument, was to re-explore each facet of a bass guitar, leading to innovations such as the Fusion neck, the Diradial"¢ body design, , and the NS/EMG"¢ pickup system. However, what makes this instrument most remarkable is its seamless integration of feature, form and function.
The sensuous lines of the RADIUS are balanced and refreshing, which is exactly how it feels to hold and to play it. Most of all, the RADIUS is, by design, the most sonically dynamic, versatile and exciting bass available today. According to the editors of the UK's Guitar & Bass Magazine"¢, which awarded it 2014 Best Guitar Over £1,000, the RADIUS is "a wonderful instrument that manages to look cooler than a headless bass has any right to," and "a bass that demands to be played."
Fretted or fretless, 4 string (CR4) or 5 string (CR5), the CR Radius Bass Guitar is available in Amber Satin, Natural Satin, or Charcoal Satin finishes.