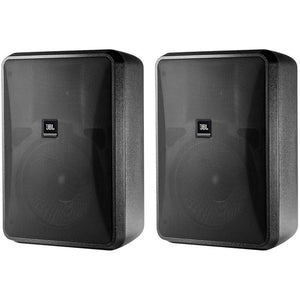 JBL Control 28-1 High Output Indoor/Outdoor Background/Foreground Speaker (Pair, Black)
Product Highlights
8" Woven-Fiberglass LF Drivers
1" PEI Diaphragm Tweeters
240W RMS at 8 Ohms
Durable, Weatherized Enclosures
InvisiBall Mounting Hardware
Zinc-Plated Grilles
Good for Off-Axis Listening
45 Hz to 20 kHz Frequency Response
Designed by JBL, these Control 28-1 loudspeakers are two-way 8" indoor/outdoor monitors featuring weather-protected circuitry, natural and powerful representations of the frequency spectrum, black enclosures, and JBL's proprietary InvisiBall mounting hardware. This hardware allows you to install the speakers through a hidden access point behind its logo badge. As such, the Control 28-1 suitable for venues, health clubs, theme parks, cafes, or anywhere where foreground/background music"¢Ã¢ š¬and paging"¢Ã¢ š¬is a necessity.
These monitors are capable of handling 240W of programmatic material at 8 Ohms, and feature a built-in multi-tap transformer for operation on distributed speaker lines. w/ an SPL of 112 dB, you can blast these speakers pretty loudly as well, while their cone geometry ensures a pleasurable listening experience in both on- and off-axis situations. Additionally, their PEI diaphragms render a smooth high-frequency response. But sound is not the only consideration: Kapton voice coil formers, JBL's WeatherEdge rubberized extensions, and a durable cabinet construction provide protection against heat, rain, wind, or anything else the elements might throw at you in the coming years.
Also, while the Control 28-1 comes in a black finish, it doesn't have to stay that way: these speakers accept a variety of finishes and pigments to match any surrounding.
Key Features
8" woofers w/ woven fiberglass cone
1" PEI diaphragm tweeters w/ fluid cooling
Built-in InvisiBall mounting hardware
Weather-resistant enclosure and transducers
100 Âdegree x 100 Âdegree coverage
240W power handling of programmatic material in direct 8 Ohms setting, plus built-in multi-tap transformers
Frequency response of 45 Hz to 20 kHz.
UPC: 691991002045
Power Rating 240 W continuous program (2 h)
120 W (480 W peak), continuous pink noise (2 h)
90 W (360 W peak) continuous pink noise (100 h)
Nominal Impedance 8 ohms (THRU setting)
Maximum Input Voltage 27.5 V RMS (2 h), 55.0 V peak
Frequency Response ± 3dB 62 Hz to 16 kHz
Frequency Response ±10 dB 45 Hz to 20 kHz
Sensitivity 91 dB, 1 W / 1 m (average 100 Hz to 10 k Hz)
Coverage Angle 100 Âdegree x 100 Âdegree
Directivity Factor 7.3 (averaged 1 kHz to 16 kHz)
Directivity Index 8.3 dB (averaged 1 kHz to 16 kHz)
Crossover Type 2nd order low-pass, 1st order high-pass, plus conjugate shaping
Transformer Taps 70 V: 60 W, 30 W, 15 W, 7.5 W
100 V: 60 W, 30 W, 15 W
Insertion loss: < 0.94 dB at any tap setting
Thru setting: 8 Ohms nominal
Recommended Protective High-Pass 45 Hz high-pass (24 dB/oct) for 8 Ohms operation plus 15 W and 7.5 W taps; 55 Hz for 30 W tap; 65 Hz for 60 W tap
LF Driver Size 8" / 200 mm
HF Driver Size 1" / 25 mm
Driver Type LF Driver: Woven-fiberglass cone w/ pure butyl rubber surround w/ Weather-Edge frame protection, high-temp Kapton voice coil former, high-temp voice coil wire, optimized cone geometry, linear suspension spider, and FEA optimized motor structure
HF Driver: PEI diaphragm, low-viscosity ferro-magnetic fluid, and Kapton voice coil former
Enclosure Material High-impact polystyrene (HIPS)
Grille Highly zinc-plated, finished in durable TGIC polyester powder-coating
Termination Screw-down terminal strip, zinc-plated copper based, nickel-plated metal screws and washers. Accepts up to 9 mm outside 4 mm inside open lugs (#6, #8, or #10 lug), plus bare wire (up to 12 AWG / 2.5 mm2)
Environmental IP-44 per IEC529; exceeds MilSpec 810 for humidity, salt-spray, temperature & UV; passes MilStd-202F for salt spray and ASTM G85 for acid-air plus salt spray
Agency Rating ROHS-compliant; Transformer UL Recognized per UL1876
Dimensions (H x W x D) 15.2 x 11.1 x 8.6" / 386 x 282 x 219 mm
Weight 15 lb / 6.8 kg
Packaging Info
Package Weight 34.5 lb
Box Dimensions (LxWxH) 22.0 x 17.0 x 13.54"