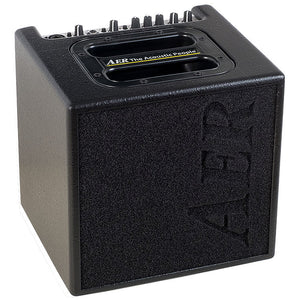 AER 40W Acoustic Combo Amp/ 1 Chan w/ 1x8 Speaker / Black ALPHA
The AER Alpha is a compact combo amp for acoustic instruments. It hasone channel with 2 individual inputs that allow parallel use ofinstrument and microphone, even though the instrument is the main focus.Inputs each have their own gain knob. Birch plywood cabinet providesgreat tone projection and is road tough. Dynamic controlled 40 Watts RMSand the 8" twin-cone speaker system give perfect performance at allsound pressure levels. Onboard reverb, external effects loop andheadphone out.
The Alpha amplifier defines the starting point ofserious acoustic amplification at AER. Based on the success and theexperience with the Compact 60 they have developed an even smaller,lightweight model that has no difficulties living up to the rigors ofthe road. Amazingly reduced, without losing what is essential for superbperformance - the Alpha is a full size member of the AER productfamily. Open sounding and quick in response, this guitar amp mastersdifferent ranges and is not afraid of bigger instruments.
Effects
TheAER Alpha has an integrated (internal) digital reverb effect on board.The return control determines the intensity of the effect (as far to theleft as possible means no effect). Furthermore, a supplementary effectdevice can be connected (external effect). For this purpose, use thesockets send and return at the rear of Alpha to connect the externaldevice (send to the input, return from the output of the externaleffect). The intensity will then be set by the controls of externaleffect device. A standard double foot switch can be connected to thefootswitch socket on the rear of the amp with a stereo cable. Thisswitch can be used to turn the internal and external effects on and off.
FEATURES
Front panel
Combination XLR male and 1/4" inch input with individual gain knob
Line/mic preamp mode selector switch line: sources with line level,instruments with active preamplifiers and magnetic sound pick-ups, mic:symmetrical microphone input with 24V phantom source
1/4" input 2 line level with individual gain knob
Pad switch to adjust input sensitivity up position: standard line level down position: reduction by 10 db/V
LED Clip overload indicator for both channels
Color mid-range contour filter, only active for input 2
Bass, middle, treble, effect return and master levels for both inputs
On LED
OutPuts
Phones: headphone output
Line-out: preamplifier output post-master control
DI-out: XLR output pre master control effect loop mono, parallel send: output, to input of an external device
Return: input, from output of an external device or from another signal source, e.g. CD player
Footswitch: connection to a double foot switch-to-switch internal and external effect on and off
Power: combined mains switch with a mains socket and a fuse holder (1 a slow-blow)
Accessory: 3/8" microphone stand adapter

Specifications
Input one: XLR Combi
Line: unbalanced, 1 MEG, mic: balanced, 600 Ohm, Voice filter 300 Hz
Input two: line: unbalanced, 2.2 MEG, pad: -10dBV, eff.return: -10dBV/10k
Outputs: line: 0dBV, DI: -20dBV, send: -10dBV
Foot switch tip: built in effect, ring: external effect, sleeve: ground
EQ: bass: Ã¥±8 dB/100 Hz, middle: Ã¥±3 dB/550 Hz, treble: Ã¥±11 dB/ 10 kHz
Analog signal processor: limiter, subsonic filter and enhancer
Effect: digital reverb
power amp: power consumption - 220-240 V / 50-60Hz / 55 VA (110V / 50-60Hz)
Rating: 40 Watt / 4 ohm RMS
Mains Fuse: 1 A slow
Speaker: 8" twin-cone speaker-system (96 dB 1w/1m, freq. range 60Hz-18kHz)
Cabinet: 0.47" (12 mm) birch plywood
Dimension: 10.24' (260 mm) high, 10.43' (265 mm) wide, 9.25' (235 mm) deep
Finish: water based acrylic, black spatter finish
Weight: 14.33 (6.5 kg)