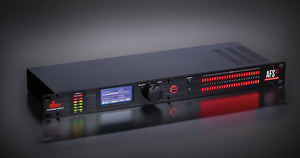 dbx ASF2 Advanced Feedback Suppression Processor w/ Full LCD Display
The AFS2 Dual-Channel Advanced Feedback Suppression Processor from DBX protects your ears and audio equipment from annoying and potentially damaging audio feedback without altering your sound. The AFS2 features application-specific filter types for speech, music low, music medium, and music high. The 24 fixed or live narrow-band notch filters are capable of removing frequencies at 1/80 of an octave, ensuring an optimal frequency response without the possibility of feedback.
The front panel features the wizard function to take the guesswork out of setting up any room by incorporating an advanced feedback suppression module and providing a full LCD display for system settings and menus. Additionally, the AFS2 offers a five-segment LED for accurately monitoring input levels for each channel, while the notch filter indicator allows you to monitor the number of filters applied. Dedicated bypass buttons are included to help isolate problem channels. The rear panel offers XLR and 1/4" inputs and outputs, both switchable between +4 and -10 dB operations. A USB port has been provided for firmware updates. The AFS2 ships with a standard IEC power cable.
UPC: 691991401510 In the Box
dbx AFS2 Dual-Channel Advanced Feedback Suppression Processor
Standard IEC Cable
Limited 2-Year Warranty