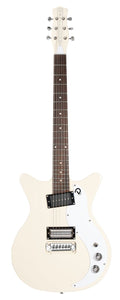 Danelectro'59X w/ Lipstick Humbucker, Cream 59X-CREAM
Wire Meets Wood Guitars is an Authorized Danelectro Dealer to the United States of America.
Meet the XT: High output single coil in neck. Lipstick Humbucker pair in bridge. Coil tap the Humbucker pair with a pull on the tone knob. Our XT adds the Wilkinson tremolo. You and the XT... a match made in heaven!

Double cutaway

Shorthorn shape

Number of frets:1

High output single coil in neck

Lipstick Humbucker pair in bridge

2 stacked tone & volume controls

3-way pickup selector

Wilkinson vibrato

New for018 from

Danelectro Made in Korea - fabulous build quality Available in: Silver, Dark Burgundy, Dark Aqua, Black